project summary
Work undertaken while at bpr architects
Completed: 2016
Construction cost: £18m
Role: project architect, lead consultant, principle designer and novated architect
RIBA stages 0-7
The Ritterman building forms part the latest element of the long term development and investment in teaching and learning facilities at the Hendon Campus. As of 2013 Middlesex University had successfully completed the consolidation of all of its teaching facilities from seven campuses across North London onto the Hendon campus and the Ritterman building presents a shift in the estates plan for the Hendon campus looking forward, with a focus on qualitative improvement and innovation in facilities which prioritise student experience.
During the design process bpr worked to appreciate the complexities of anticipating innovation within higher education building design, and as a result a critical part of the brief was to provide space which was adaptable, both able to be reconfigured to respond to new technology or new course structures and priorities, but also able to encourage pedagogical innovation.
This drive for innovation was supported by the primary end user group, The Faculty of Science and Technology, who were keen to reflect their innovative subject focus in their pedagogical approach. In terms of the built fabric. This led to the creation of a cluster of technology workshops and studio spaces which are nominally divided but are all open to a central atrium space, to encourage massive open social learning, with cross collaboration between working groups fostered by ease of movement between groups and the potential for informal or change encounters in a shared space. While the central atrium space incorporates specialist hanging supports for the testing and demonstration of robotics projects, to enable events based learning around the demonstration of work in progress.
The Ritterman houses staff and students from two different University faculties, The Faculty of Arts and Creative Industries, and the Faculty of Science and Technology. It brings together various courses and disciplines which all work in different ways in order to share ideas about ways of teaching and learning, and to create new opportunities for cross collaborating. This is embedded into the building fabric in supported spaces like the external landscaped plinths which have embedded lighting, power and data to accommodate both sculptural displays and robot demonstrations, and to inspire the creation of collaborative displays between subjects or schools.
The impact of the Ritterman building extends out beyond the building envelope, the surrounding landscaping and external informal teaching and learning spaces were an integral part of the building design. These landscaped spaces have established an external 'heart' of the campus, improving the quality of space in this area of the campus which is home to the student recreational and support spaces. It has reoriented the focus onto this area of the campus to provide high quality external amenity space for students and it also completes the network of accessible routes across the campus. Within the university the building has also provided a model for new modes of teaching and learning which have enabled other schools and faculties to better imagine and illustrate how they would like to develop facilities in the future.
Dr Lesley Main, Head of Department of Performing Arts:
"As we head toward the end of our first term in Ritterman, I just wanted to write and say how much we love the new dance spaces and the whole building in general. The students and staff were so thrilled when they saw the studio back in September and it is an absolute pleasure to dance in. The warm up room is equally wonderful – having spent the last four years warming up in a cupboard, literally, this space is a delight to come in to first thing in the mornings. One of my favourite things about the building is the mix of students and subjects, right next to each other, and the ambience that is created outside as well as in. Brilliant."
Prof.Mehmet Karamanoglu, Prof of Science and Technology
I am very happy to provide a quote about the unique features of the (Ritterman) building. For example the Networking lab is unique in the sense that it allows students access at various levels that we have never been able to provide. One of the easiest and most enjoyable building projects I have been involved in. The whole project planning, execution, and now being one of the first users of it has been an absolute pleasure.
Prof. Tim Blackman, Vice-Chancellor
"I just wanted to drop you a line to say how much I appreciated the event and tour today, and above all your imagination, inspiration and sheer hard work to realise this terrific building. I'm immensely proud of it. I realise buildings of this scale and complexity are collaborations, but your work has of course been very special. Today was definitely a great day to be Vice-Chancellor of Middlesex University!"
Richard Middleton, Interim Deputy Vice-chancellor Corporate Services.
"Ritterman is looking terrific, now it is cleared of scaffolding. Many thanks to bpr architects and congratulations for great design and working drawings that have enabled the contractors to get it right and on time."
Barry Harte, Technical Manager
"The building has state of the art technology giving opportunities for "real world" hands-on experience that translates directly into Industry and provides a fantastic environment for students to experiment, learn and grow. I am especially excited about the computer networking & security lab which I believe is totally unique, allowing students to physically build and configure large complex networks".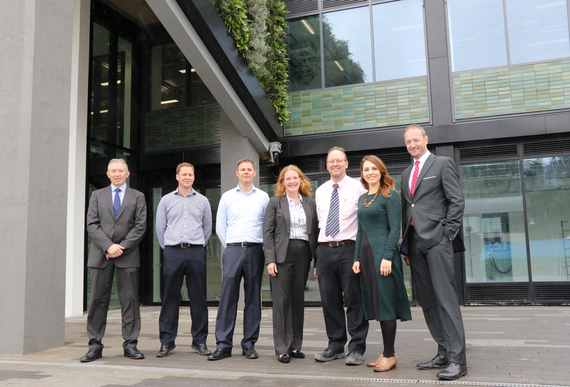 Work undertaken while at bpr architects
Completed: 2016
Construction cost: £18m
Role: project architect, lead consultant, principle designer and novated architect
RIBA stages 0-7
Press:
http://flickread.com/edition/html/index.php?pdf=593e4ec11a786#33
Featured in:
BBC series 'So I Can Breathe'
http://www.bbc.co.uk/news/science-environment-38853910
The Appreintice
Click to read Ritterman User Guide